Competitions for a pipe band generally consist of two events: the March, Strathspey and Reel (MSR) and the Medley. For a Grade 3 band the MSR has to consist of a 4-parted 2/4 march, a 4-parted strathspey and a 4-parted reel. The medley is set of tunes, typically dance tunes with a slow air thrown into the mix, which has to last between three and five minutes from beginning to end.
Simple enough, eh? But what tunes do you play? There are tons of classic pipe tunes to choose from, as well as a lot of newer less known tunes. Here are a few tricks in selecting tunes that I have learned (mostly the hard way) over the past few years:
• Most importantly, choose tunes based on the skill level of your pipe corps. It doesn't matter how easy you think Balmoral Highlanders is, if some of your pipe corps is struggling with it, you may want to rethink your selection. There are no point bonuses for difficulty.
• Don't be afraid to strip some of the more difficult embellishments out of the tune. If the corps can't play that pesky D-doubling in unison, take it out!
• Pay particular attention to picking some tunes that the judges will be familiar with. It is much harder getting the judges' attention if you are playing a bunch of obscure tunes. My latest theory is to start a medley with a technically simple tune that has a nice musical melody, throw any interesting but obscure tunes in the middle (some that I have written) and finish with a couple of fairly well known tunes.
• Play tunes that everyone in the band likes to play. You're going to be playing these sets for a while, make sure that they are fun to play! Keep it fun!
• Always have someone who well knows the capabilities of your drummers to write your drum scores! A Grade 3 drum corps playing Grade 1 scores (or even harder) will never bring back high scores from the judges.
• If you're arranging your 3-5 minute medley and it times out right at 5 minutes, you may want to think about trimming it down. Again, no bonuses for pushing the limit!
• If you're going to go to Scotland and challenge up in the warmup games the week before the Worlds, make sure very early that your medley is long enough for the higher grade! A 3-1/2 minute medley is good for Grade 3, but the Grade 2 medley has to be between four and six minutes! (There is a story here which I will relate later.)
There is an important phrase nestled in that list: Keep It Fun! And that is a big challenge sometimes when you are dealing with a volunteer organization and members of widely varying skill levels. If you simplify the repertoire too much, the more skilled and experienced players get bored. Do the opposite, and the less skilled and experienced players get frustrated. Bored or frustrated players tend to miss a lot of rehearsals.
This is compounded by the fact that you are dealing with a group of folks who have jobs, families and other hobbies. [I mean come on! Isn't your life supposed to completely revolve around the pipe band?!?!? I keep offering to talk to players' bosses and spouses about letting them have more time to practice and spend with the band, but no one has taken me up on it. We have some smart band members!] Sometimes life just gets in the way of pipe band. So I try to "keep it fun" as much as possible…and with varying success.
Here's my current strategy:
• For competition sets, select tunes of moderate difficulty. Easy enough to allow the up and comers to play, but hard enough to challenge them. And hard enough to keep some interest from the established players.
• Select some fun and more challenging tunes to include in your gig sets.
• You're going to hammer at your competition sets during most rehearsals, but finish off the evening with some of those more difficult and fun sets.
• Don't be afraid to add more tunes and swap gig sets around! Keep everyone challenged!
I'll let you know how it goes…
Next episode: Playing with Pitch
This has been an interesting four years, starting with my taking over as Pipe Major of the Silver Thistle Pipes & Drums after our last trip to the World Pipe Band Championships ("the Worlds" in Glasgow, Scotland in 2011 and culminating in our latest run to the Worlds last week. For my non-piping friends, the Pipe Major of a pipe band is, in short, responsible for the musical product that the band puts on the field. The reality, I have since found, is much more intense. The Pipe Major is part band director, part musical writer/arranger, part teacher, part project manager, part drill sergeant, part psychologist, part street beggar, part band mom, and a HUGE part cat-herder. I also get to play the pipes once in a while.
Of course, having been asked to take over the band back in 2011, all I could think of was how many ideas I had and how I could implement them the quickest. I was excited about the prospect of leading the band to victory after victory on the field, with everyone gleefully accepting my latest and greatest plan. Boy was I in for a rude awakening! Don't get me wrong, it has been a great four years that I wouldn't change for the world. But if I knew then the challenges that were ahead, I'm not sure what my reaction would have been. I certainly would have given it much more thought!
So, all that having been said, I wanted to put some words to paper and recount the triumphs and tragedies of my first four years as Silver Thistle's latest P/M. I think that this is as much for me to sort out my feelings and lessons learned as it is to encourage (and warn!) any aspiring P/M's out there ready to start their own band.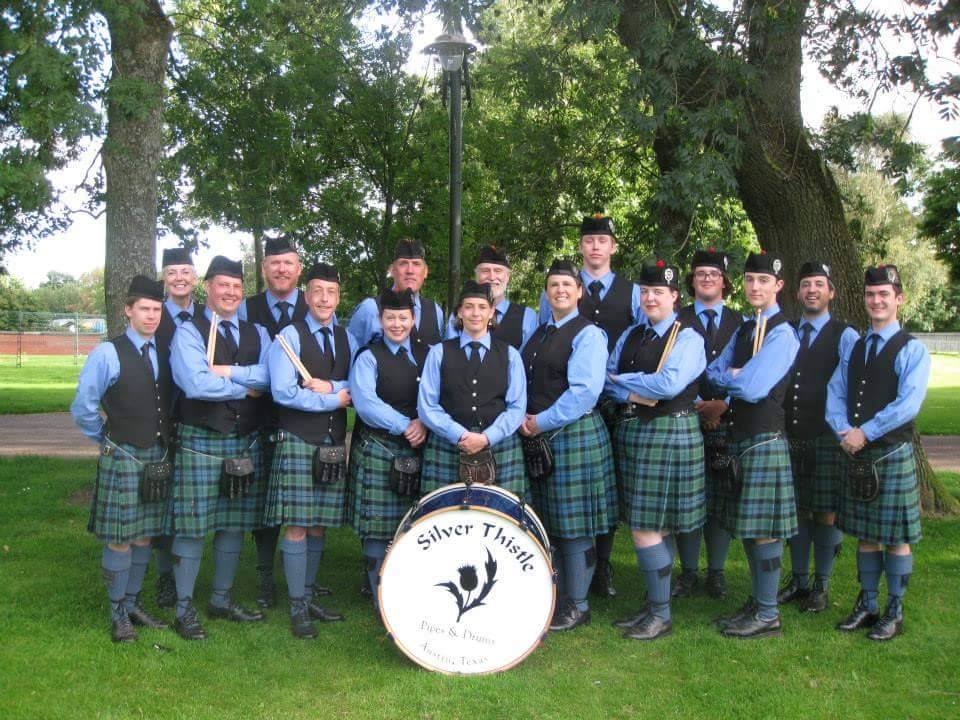 Part the First: Numbers, Numbers, Numbers!
Pipe bands typically live and die by their numbers. For a typical Grade 3 band you are required to have 6 pipers, 2 snares, 1 tenor drum and one bass drum. This can vary depending on which of the alphabet soup of governing associations under which you are competing. If you compete in Texas or the Eastern US, competition usually falls under the Eastern US Pipe Band Association (EUSPBA). Competitions in the UK (Scotland) fall under the Royal Scottish Pipe Band Association (RSPBA). Each association has its own requirements and idiosyncrasies.
Back in 2011, this was certainly no problem for us! We were fielding both Grade 3 and Grade 4 bands at the time. Our Grade 3 band travelled to Scotland that year with 12 pipers, 5 snares, 4 tenors and a bass. Not a bad size! Unfortunately, when the post-Scotland doldrums hit, we lost all of our Grade 3 snares, three of our Grade 3 tenors, and all but two of our Grade 4 pipers. Yikes! I was now left in charge if the remnants of two bands and not able to field a full band of either grade! Solution? Improvise!
(Note: these things tend to happen in cycles due to "rehearsal fatigue" from the run up to the Worlds, as well as the regular changes in life for players like college graduation, moving for jobs, chasing girls half way across the country, etc. This is the life of a volunteer organization.)
We competed the following year by doubling up players to fill out the Grade 4 drum corps. Two of our Grade 3 pipers volunteered to play tenor for the Grade 4 band. Luckily, we also had a couple of new players fill our drum corps. For Grade 3, we basically muddled on by going to competitions with our Grade 4 band and "competing" in front of the judges for comment sheets only in Grade 3. Let me tell you this now: there is nothing more frustrating than for a judge to write on a score sheet that "you have a Grade 2 pipe corps! Excellent! Now find some drummers!" Ugh!
Then about a year ago, knowing that we wanted to go back to Scotland to compete in the Worlds, we made a momentous decision. We would combine the two bands into one and compete at Grade 3! I get the feeling that there was much trepidation from our Grade 4 pipers and drummers, but they gutted it out. They took their licks, but kept working at it and have improved immensely! I'm very proud of them. This year, we competed at the Worlds with 10 pipers, 4 snares, 2 tenors and a bass. And sounded good!
By the way: If you play the drums and live in, or can move or travel to Austin, give us a shout! That will prevent me from having to take my cudgel to the next highland games to shanghai some more drummers!
Next Episode: The Music and the Never Ending Fight for Attendance